Well I really should be doing some housework
but I've had quite a few emails and comments asking if I'm back at college yet and, if so, how it is going...so here's an update.
I managed to get all my latest assignments handed in on time. The History has been marked and, thankfully, I passed it. Some of my fellow students had referrals which means they have to work on it further and then resubmit it. We've been warned that we have to "up our game" and that referrals will be more common now...fingers crossed that my Literature and Sociolgy are ok as we'll be starting our NEXT assingnments soon.

We are now into the GENDER module. This means in Sociology we are exploring Feminism and Masculinity. I never knew there were so many different kinds of Feminism and trying to distinguish one from another with all their different concepts is quite difficult. I don't think I'll be doing any of this though...
when I'm doing assignments I'm more likely to be doing this!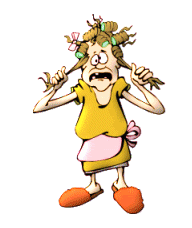 In History and Literature we are exploring the IDEALS of the gender during the 18th & 19th century.
The Yellow Wallpaper
and
The Color Purple
are the two books we will be covering in Literature.....I think there will be another Compare and Contrast essay for our next assignment! I did enjoy our History lesson this week...we were looking at the way gender was displayed in various 19th century paintings. Really interesting...so much so that during half term myself and my two fellow Sudbury students are hoping to spend a day at some Art Galleries in London.
The after school club I take starts again next Thursday. The aim is to get some of the less able children to Key Stage 2 Level without letting them realise that they are acturally learning Maths! I'll have more children in my group this year (including the VERY disruptive one from last year) so I'll be busy thinking up fun maths games for them to play. I've been over to the school this week to see what resources they have and I think for next week we will play Skittles.
Plenty of counting and adding and lots of fun!
I must admit I've been a bit of a 'fair weather' photographer lately. We've had so much rain and it's been far to dreary to go out walking....I've not walked by the river once this year yet! The only photos I've taken this last week are of indoor Hyacinths
and indoor African Violets.
Over eating at Christmas, sitting down at college, sitting down studying and lack of exercise are doing terrible things to my waistline!
Oh well....back to the housework...that should burn up a few calories!