L IS FOR LYCHEE

On the 18th February (Chinese New Year) as part of the Great Pip Challenge (
Libby
and I decided to have a go at growing some fruit stones) I decided to try and germinate a Lychee stone.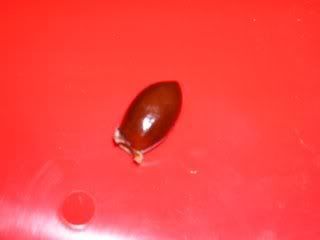 I was so surprised when it started to germinate

and that when I potted it up it continued to shoot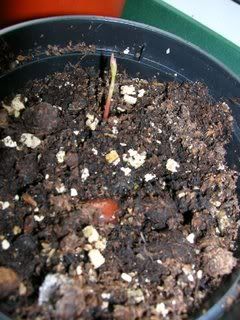 The Lychee (Litchi chinensis), Litchi or Laichi, is part of the soapberry family (Sapindaceae) and is indigenous to China.
The fruits are often, incorrectly, referred to as 'lychee nuts' as they are protected by an inedible bumpy, leathery rind. This rind easily comes away from the juicy flesh of the fruit, which is a translucent pearly white in color.
Lychees are a rich source of Vitamin C, as well as minerals like calcium, potassium and phosphorus. They are often used in cooking to flavor meat dishes, pressed for juice, or pulped to make a sherbet dish which is very popular in China. They are also used to flavor tea.
Cultivation of the lychee has expanded outside of China, and lychees are now a popular export from Australia and are also grown in California and Florida. In 1998 scientists at the Agricultural Research Service Subtropical Horticulture Research Station in Miami, Florida, ensured the status of these fruits as viable commercial crops by proving that the lychee does not host the dreaded Caribbean fruit fly.
An unusual use of the lychee tree is to hive bees in the groves. The honey made by lychee grove bees is said to have some of the flavor of the fruit itself. In China, lychees are prized not only for their flavor, but are also purported to have medicinal properties. Eating lychee fruit is suggested as a cure for a cough, digestive complaints and ulcers.
Lychees will not ripen any further after they have been taken from the tree, so only ripe lychees should be picked as unripened lychees have a bitter taste. Fresh lychees also have a short shelf life so should be used as soon as possible. The seed is slightly poisonous and should not be eaten.
A lychee has even taken a trip to space space aboard the spacecraft Genesis II on June 28, 2007 as part a private aerospace firm's "Fly Your Stuff" program.
And my Lychee now...well it's not grown a lot
but it's still alive
and even seems to have a second shoot starting....... and the rest of the Pip Challenge?........the Avocado are doing well
and I have 5 small orange trees like these (no they're not weeds in with them but self seeded Lobelia!!...I guess I ought to pull them out)
abc wednesday