At this time of year I don't worry about deadheading the Fuchsias; I leave the berries on for the birds and love the different shapes and shades of deep claret they have.
Do you eat or have you used Fuchsia berries in cooking? I think it depends on the variety you grow as to how sweet they are. I found this recipe for jam on the British Fuchsia Society's site.
600 g ripe fuchsia berries
200 g sugar
juice of half a lemon
2 tbs pectin.
Heat sugar and water until the sugar dissolves, let it cool and add the cleaned berries and lemon juice. Heat to boiling point with the pectin and boil until a jelly forms. Pour into heated jars and seal.
I've also read of the petals being candied and used in ice-cream. Fuchsia boliviana berries were once popular with the Incas and I understand can still be found sold in markets South America. Is this true?Please share your experiences....this could be a free food source I've missed!!! Better still...can you make wine with them????
It's a miserable day here; cold and wet...just perfect for doing homework and research as I won't be tempted by the great outdoors. We had an interesting lecture yesterday. Richard Reddie the author of the book Abolition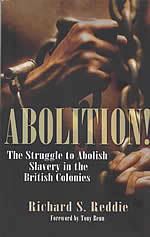 came to speak to us as part of the
Bicentenary of the Abolition Of The Slave Trade Act
. It was really informative and I had never realised how many of our cities and financial institutions owed their existence to the Slave Trade. Certainly something that was glossed over in the History lessons I had at school.