I was so good last night and went to bed early....by 2am though I was pacing the floor full of angst and trepidation at the meeting today. Knowing how I'd baulk at the idea of walking into a room full of strangers I made sure I arrived early so that I'd be one of the first. I knocked on the Reception door and asked the young lady where I should go. "Oh dear" she said "I think you have the wrong day, you shouldn't be here till the 14th!". This didn't bode well for me; if a senior moment means I've even got the date of a meeting wrong how on earth am I going to cope with studying!!!! Thankfully the receptionist didn't just fob me off but said that she'd check with the college in Bury St Edmunds. Starting to feel quite a fool I waited while she tried to get through on the phone...then wonder of wonders....in came 2 more people for the meeting! It turned out there had been an administrative cock-up error and the course tutor was in fact on her way......relief!!!!!
By the time the tutor turned up there were 7 of us; I was definitely the oldest and when one of the women started talking about a political argument she'd had the other day with some friends I thought "
OMG how am I going to fit in here...the nearest I've been to a political argument in the last 10 years is deciding whether to buy brown bread or white!"
Another lady said that she'd decided to do the course because she'd applied for 13 jobs but her age had gone against her; as she was only in her late 30s it made me realise what a struggle I'm going to have as far as future employment's concerned.
.The tutor arrived, nice lady and very enthusiastic which started to rub off on me. She explained what the course entailed.....telling us about the different modules and the dissertation we'd be expected to do..
GULP!...
and then went on to tell us about former students who were now at University taking various Degrees......"
WHOA
" I thought "
HANG ON
".....let me just get through and pay for this first! She explained that there would be further costs involved as we'd have to buy various books (EBay and Amazon here I come!) but at least I've heard of George Elliot, William Blake and Shakespeare's Othello....(unlike Big Brother's winner Brian who thought Shakespeare was the director of the film Romeo and Juliet).
Despite all my worries I've enrolled, though there is one small hiccup...if the number of students enrolling doesn't reach 14 by the 14th September the course can't be held in Sudbury and we will have to go to the college at Bury St Edmunds....this would make things difficult for me due to the cost and timings of public transport...luckily one of the ladies has kindly said she is willing to give me a lift (naturally I'd give her something towards petrol) but I'd have to be prepared that illness or her dropping out of the course would affect me. Still no point worrying about that now....it may not happen.....but I do really hope that the course will take place in Sudbury rather than have to rely on someone else.
I must thank all my bogpals for their comments and emails wishing me good luck. They are so appreciated and helped get me through the door. When the course does start I know that I'm going to get quite "brain tired" and I don't want it to be money down the drain so I'm really going to have to throw myself into it 100%...it does of course mean that for a while I'll be a part-time Blogger (how some of you work/are carers, study AND blog I don't know...
Claire
springs to my mind....what a wonderwoman she is)...I also may have to throw in a few more Pay Per Posts....I hope you'll all bear with me!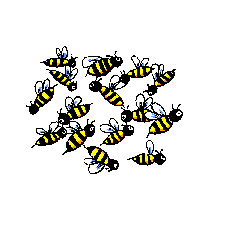 I had a lovely surprise on my doormat when I returned home......
Mark The Greenfingered Photographer
has sent me some Corncockle seeds..........they are beautifully packaged with great instructions and I'm looking forward to them flowering next year....
The front of the card has one of Mark's own photographs on it.....
believe me my photo of it in no way does it justice. Mark takes some wonderful photos and he is to blame for my quest to photograph dragon and damselflies. He has made some calenders which he is selling online...if you're looking for calendars for yourself or as gifts it really would be worth dropping by his site.
Manda dropped in to let me know how her first "official" day back at work went and to see how I'd got on myself. Only first day back for the schoolchildren and she's already had to give out her first Bad Behaviour Slip!!!! Manda helps to run an "After School Club" (Homework Club) and last year 5-11 year-old children from After School Clubs across the UK were asked to draw their favourite family members and to say why they loved them. Some of the entries have now been published in a book
and Manda is thrilled that her group has a section...
and some of her students work is now immortalised forever..........
Must go now there are Corncockle seeds screaming at me from the garden.....