As many of you know two of my other blogs are
FROM A BEE'S EYE VIEW
(macro attempts) and
RUTH'S SHOOTS
(gardening hints and tips). After heated discussions with my computer
I've realised the time it takes both for myself and my blog visitors to bloghop around from one blog to another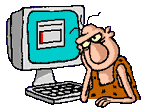 and so have decided to incorporate them both into this blog. The blogs will still be left open for anyone who wants to scroll through the old stuff. For the present time
THERE ARE A MILLION STORIES
and
A PHOTO A DAY
will remain as separate blogs.
Today I hit the milestone
It still fills me with wonder that anyone visits my blog...when I first started it last year I thought it would just be me and a few family members looking at it. I didn't even start counting visitors until October when I stumbled across a site that did those "widgety" things. So a big....

to you all.