I've been tagged by
Meeyauw
for a MUSIC TAG....here are the rules;
Name between five and ten songs that have made an impact on your life. I'll leave it up to you to decide how many you wish to describe.
Pass it onto five other people with a link back to your own post and this one as the original.
I've decided to choose 5 songs from my childhood and teenager days.....the songs of impact of my adult years I found unable to pin down to only 10...each played such an important and emotional part in my life that I would have found it impossible to leave any out..................so...... going back to the days before CDs were invented.....(yes children we did have music before the CD age!).......here's my list;
The first song I remember learning
the words of

"Gilly Gilly Ossenfeffer Katzenellen Bogen by the Sea" by Max Bygraves 1954
The first record I ever bought
"Wooly Bully" by Sam the Sham and the Pharoahs 1965.
My favourite Eurovision song
Udo Jürgens Merci Cherie 1966... I was 14 and living in Germany at the time and "swooned" at the sight of Udo.
My favourite Beatles song
"I Want You (She's So Heavy)" 1969....from their album Abbey Road. I couldn't stand them in the "She loves you, yeah, yeah, yeah" days.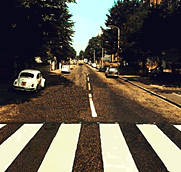 The song that I got sick of hearing
Leslie Sarony "Forty-Seven Ginger-Headed Sailors" 1928...no I'm not
that
old but I remember my grandfather playing it again and again and again etc etc...........
Now there's a good ship,
H.M.S. Cock-Robin. On her home trip,
Up and down she's bobbin'
Oh the crew's pretty tough.
The sea is so rough.
They're all fed up and say
That they've had more than enough.
She's got a father
He's an able seaman
And they call him Redhead Tom
I wire to say I'll meet you
And with your friends I'll treat you
So who do you think I've had a message from?
Forty-seven ginger-headed sailors
Coming home across the briny sea
When the anchor's weighed
And the journey's made
Yes, they'll start the party
With a heave-ho, me-hearty
Forty-seven ginger-headed sailors
You can bet you're going to hear them when they hail us
An old maid down in Devon
Said my idea of heaven
Is forty-seven ginger-headed sailors.
I've tagged so many people lately for memes and awards so I'm leaving this one wide open, if you fancy doing it let me know...........and please don't be offended if I turn down tags and memes for a while but while my computer's so temperamental I need to make the most of my PC time by doing my normal posts and visiting you all....................................
I'm all tagged out!!!!!!!!!!!!!!!!!