First congratulations to Skittles as it's her 1st Blogbirthday; if you've never visited her you've missed a treat. Already she's clocked up over 2000 posts! I promised I'd make a cake for her with a surprise in...hope she enjoys it!!!!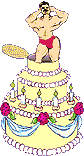 The weather's been downright awful the last few days....our little bit of England hasn't seen a trace of sun...though I understand from some of your comments that other parts of the UK may have fared better. I've hardly got into the garden at all as it's been tipping down all week...so depressing. Only one new flower in bloom and I can't show you that as I need it for my Green Thumb Sunday post!

I've also found myself making comfort foods like Lancashire Hotpot and Chicken Casserole and have been so close to putting the central heating on.......
I'm off to Leanne's today.......we've been keeping our fingers crossed that Phil would get the GCSEs he needed to get his College place.......AND HE GOT 8!!!!....WELL DONE PHIL. So today he has to go to the College for enrolment and Leanne, the girls and I are going along too! With Phil being 16 years old he doesn't actually need his Grandmother, Mother and Sisters to hold his hand........in fact we won't be going into the college with him........it's just that the college is quite close to Matalans and gives us an excuse for a Window Shop!!!...who knows we may even pick up a few bargains. We had hoped to walk back through Colchester Park but once again the forecast is rain and more rain but I'm taking my camera anyway!
I couldn't get on the Internet till gone midnight; will catch up with all your posts when I get home tonight.
If you didn't get a chance to visit my Blogbirthday post yesterday....please scroll down and pick up your gift. Many, many thanks to those of you who have been kind enough to do so already.